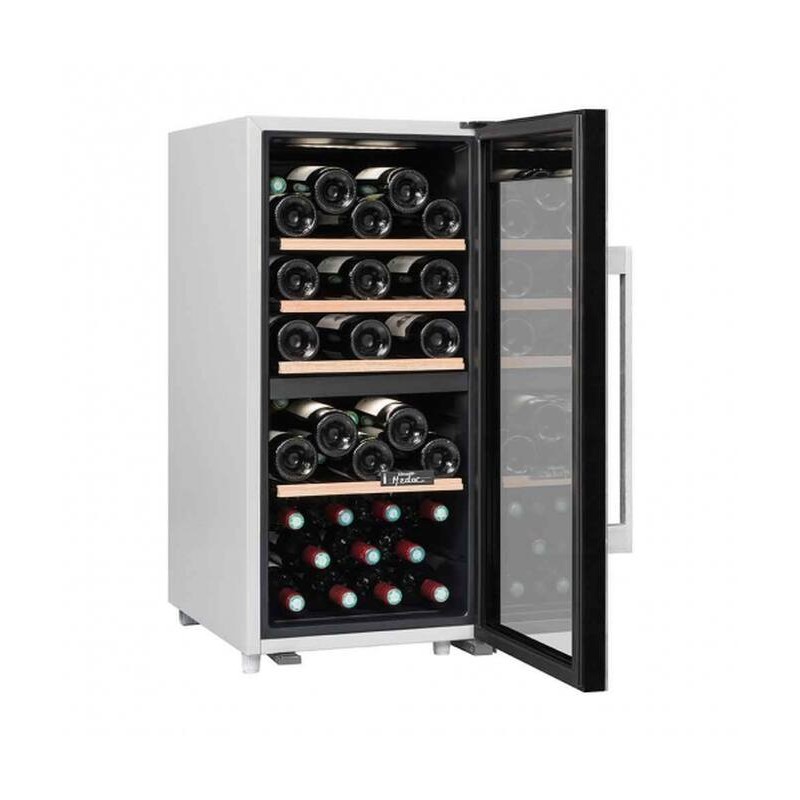 CD110B1 Double zone serving cellar 110 bottles
Double zone wine cellar CD110B1 to benefit from 110 bottles at hand, 47 in the upper part and 63 in the lower part. Your wine is brought to the ideal temperature for tasting in this 2-zone cellar, each one adjustable independently of the other, between 5 and 12°C and 12 and 20°C.
The advantages of the CD110B1 wine cellar
The CD110B1 wine cellar is new for 2021, with a new elegant black design: with its dual zone, the cellar offers the undeniable advantage of being able to store 2 types of wine at different temperatures in a single unit.
Intuitive and modern, the serving cellar has a touch control panel on the front of the door! The "Soft Touch" settings allow you to configure the cellar without opening the door. The cold stays inside, your wine is preserved. 
The black of the cellar and the natural wood of the shelves combine with style and add character to the appliance. The white LED lighting invites you to look and taste. A switch allows you to turn off the lighting if you wish.
The CD110B1 wine cellar has a safety lock to prevent children from changing the configuration of your appliance, as well as visual and audible alarms to alert you if the cellar needs your attention.
CD110B1 Dual Zone Wine Cellar
The CD110B1 double zone wine cellar allows the storage of :
47 bottles in the upper zone, adjustable from 5 to 12°C ;
and 63 other bottles in the lower zone, between 12 and 20°C.
The serving cellar works with stirred cooling with good cooling and temperature control.
Delivered with 4 sliding steel wire shelves and wooden fronts, the CD110B1 wine cellar offers great comfort of use and allows you to easily access the 110 bottles it contains. This 125.5 cm high model takes up very little space and offers a very well optimised storage capacity.
Summary of the strengths of the CD110B1 serving cellar
Dual zone: 2 independently adjustable compartments to store 2 types of wine at 2 temperatures;
Maximum capacity: 110 bottles*;
Aesthetic and contemporary;
White LED lighting;
Touch control panel on the front of the door: no need to open the door to access the settings but also no more unnecessary temperature drops inside the cellar;
Anti-vibration system;
1 glazed door, grey double glazed with anti-UV treated tempered glass.
Main features CD110B1
4 steel wire shelves, wooden front (beech), semi-sliding type
2 adjustable feet (height 0,8 cm);
Electronic thermometer (white);
White LED lighting with switch;
Handle.
Please note: If you are looking for a similar double zone wine cellar but with a smaller storage capacity, we invite you to consult our model CLS56MT (56 bottles), or the CLS41MT with its 41 bottles. For an overview of the single zone cellars in the range, please refer to the CLS31, CLS41 and CLS63.
Data sheet
Use :

Service wine cellars

Capacity (with 75cl bottles of traditional Bordeaux):

110

Installation :

Pose libre

Recommended room for installation :

Pièce de vie chauffée (séjour, salle à manger)

Temperature range (°C) :

5-12°C / 12-20°C

Number of temperature zones :

2

Door type :

Porte vitrée

Door processing :

Anti-UV

Reversible door :

Non

Exterior colour :

Black

Number of semi-sliding shelves :

4

Type of shelves(s) :

bois (hêtre)

Digital temperature display :

Oui

Système de régulation :

Electronique

Fonction hiver :

Non

Nature de l'appareil :

Compresseur

Pied(s) réglable(s) :

2

Système anti-vibration :

Oui

Couleur LED :

White

Dimensions nettes (sans emballage, LxPxH cm) :

50 x 54 x 125,5

Dimensions brutes (avec emballage, L x P x H.cm) :

54 x 57 x 127

Poids net (sans emballage, kg) :

44,00

Poids brut (avec emballage, kg) :

48,00

Alarm .

Visuelle et sonore

Sound level :

41

Consommation électrique (kW/an) :

157 kWh

Energy class :

G

Power (Watt) :

68 W

Warranty included :

Totale 2 ans (Pièces, MO & déplacement)

Bottles :

M (56 -170 bouteilles)
Specific References
EAN13

3595320106398

MPN

CD110B1
No customer reviews for the moment.