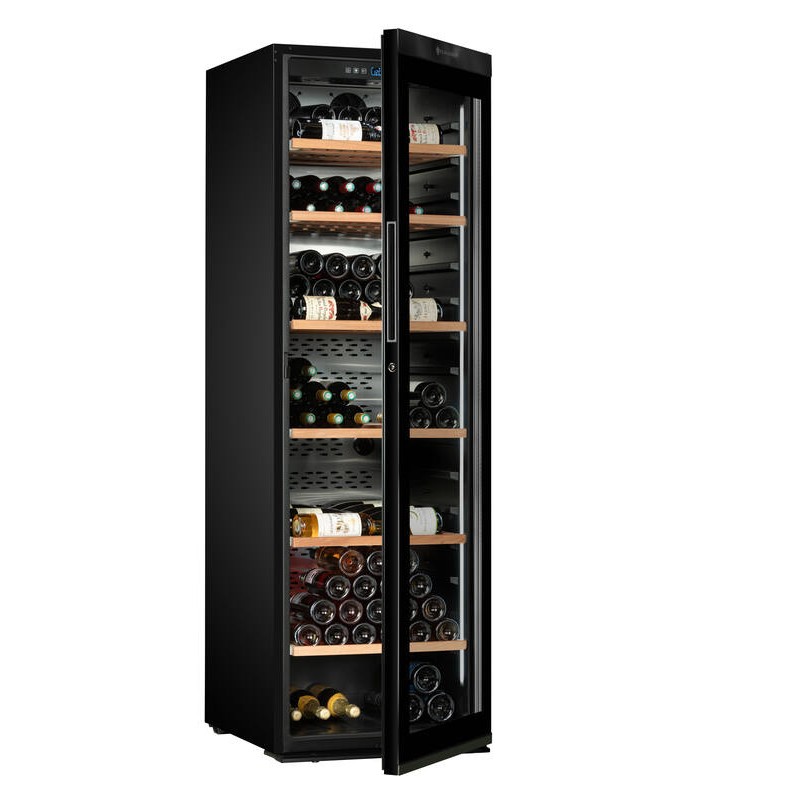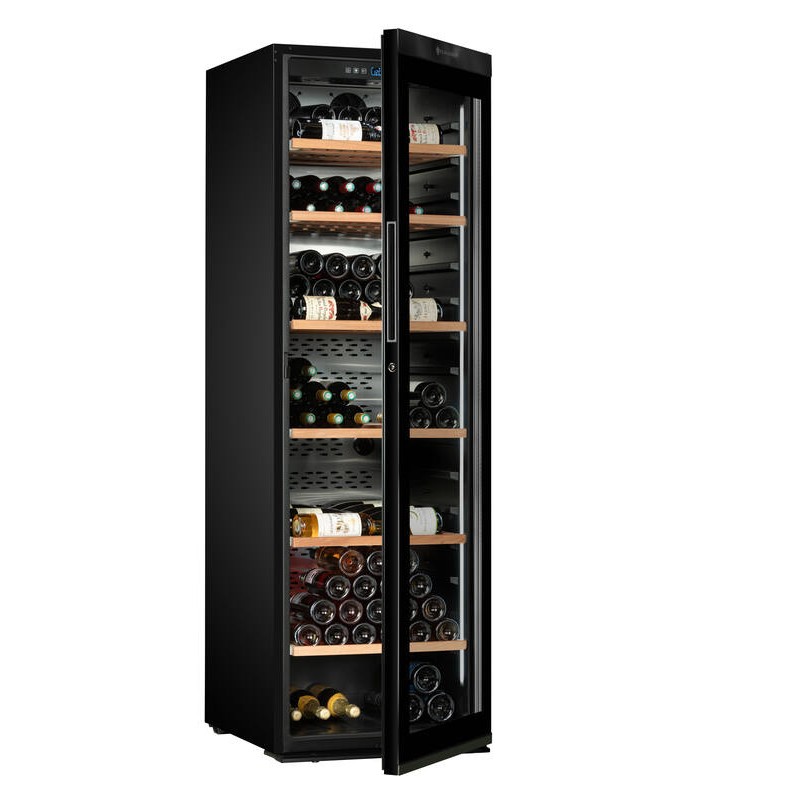 CVP270A+ Ageing cellar 264 bottles
Climadiff CVP270A+ wine ageing cellar with a full door to ensure the total darkness necessary to age your wine properly. Delivered with 4 fixed shelves and 1 sliding shelf, the capacity of the cellar is optimised and can accommodate up to 264 bottles of wine*. Made in Europe.
The CVP270A+ is a free-standing wine cellar for ageing up to 264 bottles of wine in perfect conditions, as close as possible to those of natural underground cellars.
CVP270A+ 264-bottle ageing cellar
The Climadiff CVP270A+ ageing cellar meets all the requirements of wine connoisseurs to age their wines in complete serenity, until their peak date. 5 criteria, also called "golden rules", are essential for a wine cellar to be sure to discover the organoleptic qualities of the wine when tasting it, years after having put it in the cellar. 
A stable, adequate and constant temperature: golden rule N°1 of an ageing cellar: temperature! Once the setting has been made, you can be sure that your wine will not undergo any temperature changes that could be fatal to it.
Perfect stability: an anti-vibration system is integrated into the wine cellar to ensure complete stability of the stored bottles
Total darkness: The solid door is the only way to keep the wine away from light. UV rays harm the wine, endanger its ageing and inevitably alter its taste. The solid door is the only 100% UV barrier.
Regulated humidity: the humidity level inside the cellar is regulated and controlled; this is as important as the temperature. A cellar that is too humid or too dry will have consequences for the wine. Climadiff cellars integrate the optimal regulation of hygrometry.
Healthy and filtered air: the cellar is delivered with an active carbon filter whose action regulates, filters, purifies and renews the air to avoid any unpleasantness inside the cellar (odours, mould, etc.).
Moreover, these golden rules are not the only advantages of the CVP270A+ cellar which seduce by other significant performances such as : its European manufacture (Portugal) !
Designed by professionals whose know-how is no longer in question, this Climadiff wine cellar is attracting more and more wine lovers. Equipped with a winter system, the CVP270A+ can be installed in an unheated room in your home, such as a cellar or garage. This maintains a positive temperature in your cellar and prevents your bottles from freezing during the winter.
Compatible accessories CVP270A+
The CVP270A+ is delivered with 4 fixed wooden shelves and 1 sliding shelf (ref. CLASSIQUE2/62 and RAILV3). To further customise it and optimise storage performance, we recommend adding some compatible accessories, such as:
PREMIUM1/62: solid wood shelf;
the COLLECTOR1/62: a reversible rack with an imprint that perfectly matches the shape of Burgundy bottles on one side and Bordeaux bottles on the other;
or the SBV4 metal half-rack for storing bottles upright (ideal for open bottles!).
Technical specifications CVP270A+
Capacity: 264 bottles*.
Installation type: free standing
Cooling system: compressor
Design: ""Bordeaux"" coloured cellar body
Operating range: 12°C +/-2°C
Climate class (required ambient temperature): SN-N (10°C - 32°C)
Electromechanical control
Thermometer with red electronic display
Solid door, castle door
Energy consumption (kWh): 169
Noise level (dB) : 43
Net dimensions (WxDxH cm) : 62 x 71 x 186
2 adjustable feet at the front and 2 castors at the back
Total warranty 2 years (parts, labour and travel in France).
* Capacity defined as an indication with 75cl bottles of Bordeaux tradition. The addition of shelves considerably reduces the storage capacity.
No customer reviews for the moment.