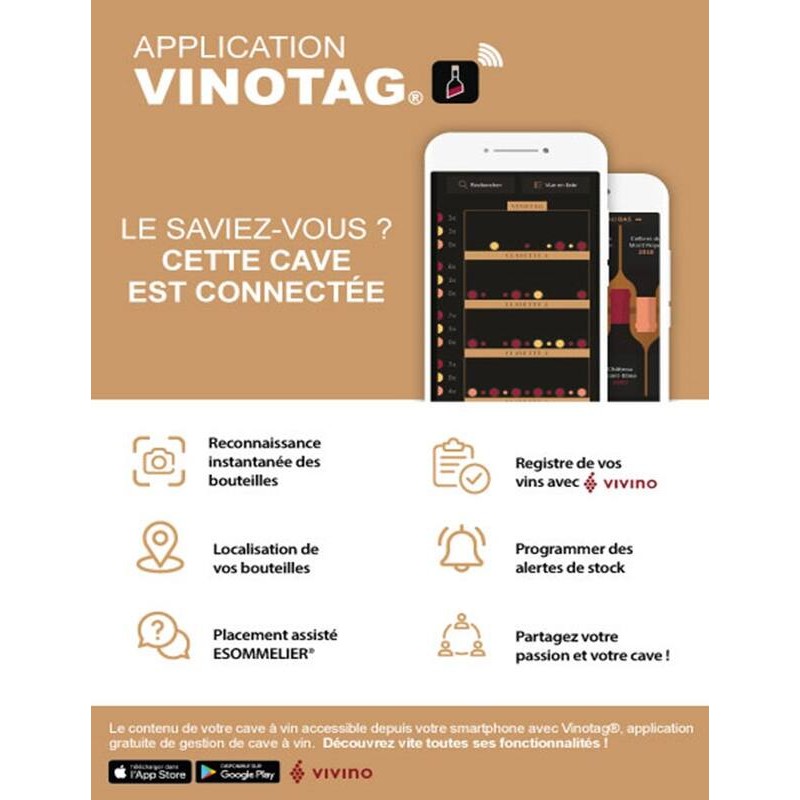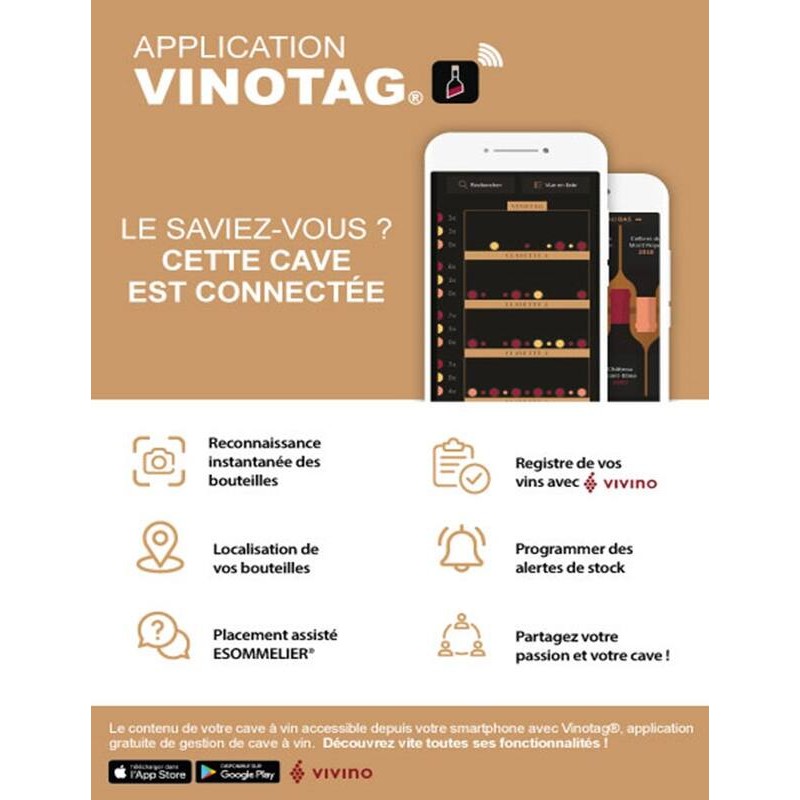 CVP268A++ Ageing cellar 264 bottles
Ageing cellar CVP268A++ with all the ideal conditions to age your most beautiful bottles with a capacity of 264 bottles. A refined design and compatible with multi-format bottles. Equipped with the winter system, it maintains a positive temperature in your cellar during the winter period.
The CVP268A++ ageing wine cellar with a silk-screened "Cellar register" counter door in free standing, allows to keep up to 264* bottles of wine in the best conditions, approaching the one offered by the traditional underground cellars.
CVP268A++ Aging cellar 264 bottles
The Climadiff CVP268A++ ageing cellar meets the essential requirements for long term storage and ageing of wine until its optimal tasting period. The respect of the "5 golden rules" is essential for the wine to deliver all the expected organoleptic qualities, namely :
A stable, adequate and constant temperature: golden rule number 1 of an ageing cellar! Once the temperature has been set, you can be sure that your wine will not undergo any temperature changes that could be fatal to it.
Perfect stability: an anti-vibration system integrated in the wine cellar to ensure perfect stability of the stored bottles
Total darkness: The solid door is the only way to keep the wine 100% dark. UV rays harm the wine, endanger its ageing and inevitably alter its taste.
Regulated humidity: the humidity level inside the cellar is regulated and controlled; this is as important as the temperature. A cellar that is too humid or too dry will have consequences for the wine. Climadiff cellars integrate the optimal regulation of hygrometry.
Healthy and filtered air: the cellar is delivered with an active carbon filter whose role is very important: it regulates, filters, purifies and renews the air to avoid any type of unpleasantness inside the cellar (odours, moulds, etc.). Your bottles are safe from any bacteria.
Moreover, these golden rules are not the only advantages of the CVP268A++ wine cellar which seduce by other significant performances such as : European manufacturing (Portugal) !
Designed by professionals whose know-how is no longer to be proven, this Climadiff wine cellar is attracting more and more wine lovers. Equipped with a winter system, the CVP268A++ can be installed in an unheated room of your home, such as a cellar or a garage. This allows you to maintain a positive temperature in your cellar and prevents your bottles from freezing during the winter.
2-year total warranty (parts, labour and travel in France).
* Capacity defined as an indication with 75cl bottles of Bordeaux tradition. The addition of shelves considerably reduces the storage capacity.
Data sheet
Use :

Aging wine cellar

Installation :

Pose libre

Temperature range (°C) :

5-18°C

Number of temperature zones :

1

Door type :

Porte pleine

Reversible door :

Non

Exterior colour :

Corps anthracite

Number of fixed shelves :

5

Digital temperature display :

Oui

Système de régulation :

Electromécanique

Fonction hiver :

Oui

Nature de l'appareil :

Compresseur

Roulettes :

2 à l'arrière

Pied(s) réglable(s) :

2

Serrure :

Non

Système anti-vibration :

Oui

Eclairage intérieur :

LED Blanc avec interrupteur

Dimensions nettes (sans emballage, LxPxH cm) :

62 x 71 x 186

Dimensions brutes (avec emballage, L x P x H.cm) :

69 x 78 x 190

Poids net (sans emballage, kg) :

70

Poids brut (avec emballage, kg) :

76

Sound level :

43

Consommation électrique (kW/an) :

136

Energy class :

F

Climate class (ideal outdoor temperature) :

SN-N (10°C - 32°C)

Voltage (Volt) :

220

Power (Watt) :

63

Made in :

Portugal

Warranty included :

Totale 2 ans (Pièces, MO & déplacement)

Bottles :

L (+ de 170 bouteilles)
No customer reviews for the moment.